I'm taking the amazing online workshop called BIG by Connie Hozvika over at
Dirty Footprints Studio
The class is helping me to find my artistic voice and challenging me to enter into the process of painting in a whole new way. It is also the catalyst for starting this blog. Connie and the rest of my BIG girlfriends have given me the courage to start putting my artwork and my thoughts on cyberpaper (is there such a thing?).
I'm really excited about participating in a new online workshop that Connie is hosting with 21 of her favorite artist friends called,
21 Secrets: An Art Jounal Playground
I think it will be a great source of inspiration and provde content for my new blog.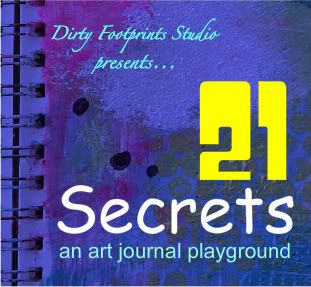 The workshop includes 21 artists sharing 21 different classes. These are a few of the classes I'm particularly excited about:
THE SECRET OF BEGINNING
Lisa Wilson ::
Life Unity
Why in the world would one want to do this thing called "art journaling"?
Even if you wanted to, how would you know where to begin? And that stuff, "gesso" – do you apply it or eat it?

We all start somewhere. Those with a wise beginner's mind start again and again. Journey with me as we explore why & how one would go through this process of art journaling, including a detailed look at some of the basic materials used.
THE ART JOURNAL AS SOUL MIRROR
Effy Wild ::
Wild. Precious
Plumb your own depths to discover your soul's purpose and create a beautiful art journal page that reflects that purpose back to you. No drawing required! This class will include an mp3 audio meditation, a step-by-step PDF file, and a video!
THE DOODLICIOUS DAYBOOK
Tracie Hanson ::
My Blooming Life
Doodle much? Yeah, me too.
Ever doodled on a scale so large that you produced enough whoppin' doodlicious paper to bind a thick and juicy art journal?
Nope, didn't think so. I have.
And I'll show you how with some videos and pdf's.

In this workshop, we'll begin by doodling WAY big . . .
then deconstruct it into the makings for your own
beautific doodlicious diary.

So fun, easy and cool, you'll crank out a dozen in no time!
I'll even share a few spankin' specialicious techniques
to make it even purtier.

You'll dig it. You'll wanna show off.
The adventure begins October 1 and I can hardly wait!